Infinix Zero 5G Review: Battery and CPU have power!
Xiaomi and Realme are two such big brands that have captured the main and middle phone segment. Smartphones are launched by both companies at short intervals, so many times the attention of customers is focused on smaller players who provide interesting features at low prices. Infinix Zero 5G is also one such smartphone. This is the only smartphone under 20 thousand rupees, which provides a telephoto camera with 2X optical zoom. Second, this is the company's first 5G smartphone. It launched in February 2022 and has many interesting features.
There is currently no shortage of 5G smartphones under Rs 20,000. Can Infinix Zero 5G be recommended at this price? Let's find out.
Infinix Zero 5G price India
Infinix Zero 5G comes with one option 8GB RAM and 128GB storage. It costs 19,999 rupees. It can currently be purchased from Flipkart for Rs 17,999. The phone is available in Cosmic Black, Horizon Blue and Skylight Orange.
Infinix Zero 5G design
Infinix Zero 5G is quite tall and seems impossible to handle with one hand. It is longer than the iPhone 13 Pro Max. The good thing is that its thickness is not much – 8.77 mm, and the weight can handle 199 grams. I had its black version, whose glossy finish very easily catches fingerprints. Stains are easily visible on it and do not leave quickly even after cleaning. In such a situation, keeping it clean also becomes a big task.
Its rear camera module is reminiscent of the Oppo Find X5 Pro. It seems to come out of the back panel and looks quite attractive. Therefore, it looks quite good and different in the phone from this segment. The back panel is made of polycarbonate. After a few weeks of use without the case, there were slight scratches on the bottom.
The volume and power buttons are provided on the right side of the phone and there is no click to feel when pressed. The fingerprint scanner is provided in the power button. The tray on the left side has slots for two nano SIM and a microSD card slot. A headphone jack, USB Type C port and speaker are provided at the bottom of the phone.
The Infinix Zero 5G has a 6.78-inch IPS LCD full-HD + display. It has a refresh rate of 120Hz and a sampling rate of 240Hz. The screen receives a maximum brightness of 500 nits. The scratch protection glass on the display is not confirmed. The frames around the display were not shaken, but the cutout of the camera could have been a little smaller. The phone case includes a 33W charger, a Type-A to Type-C cable, a screen protector, a transparent silicone case and a SIM card removal tool.
Specifications and software for Infinix Zero 5G
Infinix gave the phone a powerful processor in the form of a MediaTek Dimension 900 processor. It is also found in expensive phones such as OnePlus Nord CE 2 (review) and Oppo Reno 6 (review). The chip supports 13 5G bands. The company says it has LPDDR5 RAM and UFS 3.1 storage, which is not common in this segment.
Common sensors and satellite navigation system are given in the Infinix Zero 5G. Supports Wi-Fi 6 and Bluetooth 5.1. The phone does not come with stereo speakers and you don't even get an IP rating. But there is an FM radio. It has a 5000 mAh battery that can last at least a whole day.
The XOS 10's custom skin is available in the Zero 5G, which is based on Android 11. The phone will also receive an update to Android 12, but not before August. I would like to say that XOS is not my favorite because its UI elements are very busy and sometimes it is very difficult to find what we are looking for.
There are many pre-installed applications in the phone that continue to send notifications without working. Applications such as AHA Games, Palm Store, Hi Browser, InSync were considered unnecessary and could not be removed. Basic settings such as graphics for battery usage are also given in the menu, which seems pointless.
I like some elements of its user interface such as the XArena Games application, which is a very smart application, with the help of which some user interface settings can be changed from within the game. However, he also recognized Twitter and Google Photos as games, which was quite surprising. I hope to improve with the Android 12 update.
Infinix Zero 5G performance and battery life
The experience of using the phone is not so bad. But I would say avoid the black version, as it is a big task to keep it clean, as I said before. Blue and orange color options will be more correct. The phone's display is bright and there is no problem with reading even outdoors. But if you do not turn on its one-handed mode, then it is very difficult to deal with it with one hand.
The videos broadcast over the phone looked pretty good, with good colors and brightness. It does not support HDR video playback. The single speaker is loud, but there are no stereo speakers for immersive sound. The refresh rate is not dynamic and is fixed at 120Hz.
I found that when I set it to auto mode, it plays 120Hz on the home screen and gallery app itself and 60Hz on other apps. You need to press it to 120Hz to scroll smoothly. The phone performed well in the benchmark test. The phone scored 475,637 points on AnTuTu. He also scored 730 and 2,037 points in Geekbench's single-core and multi-core tests, respectively. Games like Asphalt 9: Legends and Call of Duty: Mobile work well on the phone. After a 30-minute session, the back of the phone began to heat up, but it wasn't hot enough to hold.
His battery life was also very good during the inspection period. The phone lasts more than a day, even with heavy use. This lasted 16 hours and 35 minutes in our HD video cycling test, which is above average. Its charger charges the battery very quickly. Its battery is 92 percent charged in one hour.
Infinix Zero 5G camera
Its telephoto camera is a special point that sets it apart from others in this segment. It has a resolution of 13 megapixels and comes with autofocus. It has an aperture of f / 2.46 and is available with 2X optical zoom. Can be digitally increased up to 30X.
The camera performs very well when shooting during the day. It gave good details in landscapes and close-ups. The exposure was well processed and the focus on the subject was quite sharp. I have good details in it up to 10X magnification. But on top of that, the quality started to deteriorate. The photos taken at 30X showed grains and things just looked recognizable. Its performance in low light was not good at 2X. With further increase, the quality deteriorates.
It also has a 48-megapixel main camera and a 2-megapixel depth sensor on the back of the phone. There is no ultra-wide lens in the phone. The main camera was disappointing as its exposure was not good during the day. In the open landscape and bright sunlight, the main camera took pictures of the washed. The telephoto camera took better pictures here than the main camera.
Landscape photos in low light looked very dark and lacked good detail. The quality has improved a lot after turning on the Supernight mode. The portrait photos were good, the background blur looked good and the edge recognition was good too.
Its 16-megapixel selfie camera is not particularly impressive. The results are not very good during the day and night. The daily selfies were usable, but with poor exposure the colors were weak. The low-selfies were grainy and dark. There was some improvement in Super Night Mode, but the details remained weak here as well.
Infinix Zero 5G can record videos up to 4K at 30 frames per second, but does not receive stabilization. The colors were oversaturated in the videos shot in daylight. The low-light shots looked rather grainy. The video quality did not show much improvement even at 1080p and the frames were not stabilized. The only way to get smooth frames was to activate Ultra Steady mode, but the frame was cropped and the resolution was limited to 1080p at 30 frames per second.
our solution
Infinix Zero 5G on paper offers decent features that first caught my eye. Its processor is obviously good, the battery life is also good, and charging is also fast. The camera is above average. The performance of the rest of the camera is disappointing and the software experience is also not good.
If you want a phone with a good telephoto camera in this range, then I would suggest you spend a little more money on the Motorola Edge 20, which has the same 5G processor and 3X telephoto camera. In addition, it comes with a 144Hz AMOLED display and an IP52 rating is also available. If your budget can't exceed 20,000, then you can buy the OnePlus Nord CE 2 Lite 5G and take a look at the Realme 9 5G Speed ​​Edition.
Oppo Reno 8 Pro 5G Review: Best Design, Average Camera Performance
Oppo's Reno 8 Pro 5G is the company's most expensive Reno smartphone in India, priced at Rs 45,999. The phone is really good to look at, but if you take a cursory glance at its specification, then it turns out to be a mid-range phone. Does the Oppo Reno 8 Pro 5G serve only in decorations or is the strength in its overall performance and camera charged for such a price?
This phone matches the Realme GT Neo 3 and OnePlus 10R in many ways, but does it leave the same shortcomings as the rest of the competition? I've been using the Reno 8 Pro for a few weeks and here I'm going to tell you everything you need to know before you buy this phone.
Oppo Reno 8 Pro 5G Price
The Oppo Reno 8 Pro 5G is available in a single variant in India where we can see 12GB RAM and 256GB storage. The phone is priced at Rs 45,999. It comes in two finishes that include Glazed Green and Glazed Black. I had his glazed green module. Realme GT Neo 3 and OnePlus 10R 5G come with a lower starting price and offer similar specifications. But the presence of one variant in the Reno 8 Pro 5G means that it has only been launched against premium smartphones.
Design of Oppo Reno 8 Pro 5G
The design of the Oppo Reno 8 Pro grabs attention at first glance. It looks quite attractive compared to other smartphones in this price segment. At 7.34 mm, it is not very thin, but it cannot be called thick either. The phone weighs 183 grams, which is surprisingly light considering its aluminum alloy frame, which not only looks good but also feels premium. There is a glossy glass panel at the back which is protected by Gorilla Glass 5 and does not allow fingerprints to remain on it easily.
Its cameras make its design stand out. The lens cutout fits the camera assembly perfectly. In fact, the camera module is an extension of the rear glass panel. The module has a slight slope that my first finger would fit under, and the phone felt pretty easy to handle with one hand.
The phone's display is flat, but has a slight curve at the edges that blends in with the sharp corners of the frame. I've never seen bezels this thin at this price. The display has very thin bezels on the top and bottom, but even thinner bezels are placed on the left and right sides, which are just 1.48mm. Thanks to this, the phone looks very modern and sharp in appearance.
This time, Oppo took a mature step instead of including the fancy design of the Reno series like a shark fin selfie camera and an IP54 dust and water resistance rating on the phone. Motorola Edge 30 Pro is the only smartphone in this segment that comes with almost the same IP52 rating.
Oppo Reno 8 Pro 5G Specifications and Software
The Oppo Reno 8 Pro 5G features a MediaTek Dimensity 8100-Max SoC, along with a MariSilicon X NPU, which the company says is primarily used to aid video recording. MariSilicon X NPU is not new, it was first announced along with the launch of Oppo Find X5 Pro, a premium smartphone, but it was not launched in India.
The Reno 8 Pro 5G doesn't offer a storage expansion option, but the phone has room for two nano-SIM cards with dual 5G support. The phone supports dual standby and also supports standalone and non-standalone 5G bands. Other connectivity options include Wi-Fi 6, Bluetooth 5.3 and NFC. In the box you get a USB Type-C to Type-A cable, an 80W charger and a clear TPU case.
Talking about the software, the company has kept certain parts of Color OS for its own smartphones. The peculiarity of customizing the phone is that it can also choose which color from the selected wallpaper to choose. Also, its unique font and OPPO's O-Haptics (vibration system) are some of the things I didn't see on the OnePlus 10R 5G Endurance Edition or the Realme GT Neo 3 (150W).
Oppo Reno 8 Pro 5G's O-Haptics system uses an X-axis linear motor that is very precise for feedback. It also works well when used for the phone's 3D ringtone feature. The 3D ringtone feature is also an exclusive feature of Oppa. Oppo has also provided a floating window feature that lets you open multiple apps in small floating windows for sharing. The Reno 8 Pro 5G runs on ColorOS 12.1, which is based on Android 12. The company promises two years of Android OS updates and four years of security updates, which is good.
One thing I didn't like about it was the daily notifications from its themed app. It kept asking me to download a new wallpaper or buy a new Oppo smartphone. Smartphones priced above Rs 40k also had many pre-installed third party apps like Dailyhunt, Josh, Moj and PhonePe etc. But it was nice that many of them could be removed. Apart from that, Oppo also had many apps like Soloop Cut, O Relax, DocVault, etc. They were useful though, but could also be removed if needed.
Oppo Reno 8 Pro 5G performance
In terms of benchmarks, the phone performed as expected. In AnTuTu, the phone scored 901 points and 3532 points in single and multi-core tests respectively. The software performance of the phone is also good. It gets Dimensity 8100-Max SoC with LPDDR5 RAM and UFS 3.1 storage. The phone is very fast when multitasking and running multiple apps. Its display with 120Hz refresh rate makes the software experience smoother. The move to a flexible AMOLED display benefited the company, making it possible to make the bezel extremely thin.
Its 6.7-inch FullHD+ display is quite bright. Colors are vibrant and viewing angles are incredible. Compared to Realme GT Neo 3 (150W) and OnePlus 10R Endurance Edition, its display is much better. It comes with HDR10+ certification and makes it a pleasure to watch content on apps like Netflix and Amazon Prime Video. Its stereo speakers are quite loud and produce very clear sound even when the volume is turned up to full. Their output is quite balanced.
I didn't like the fingerprint scanner shown on its display. For some reason it couldn't read my fingerprints. Then I found that if you put a little more emphasis on it, then it is easily recognized.
The gaming performance of the phone is quite good. Whether using the camera app or playing games, its graphite-based cooling system prevents the phone from overheating. Call of Duty: Mobile runs smoothly even at the highest graphics settings. Asphalt: 9 Legends also ran very smoothly, but surprisingly no 60fps mode was enabled. The phone has a touch sample rate of 360Hz, which supports fast-paced gaming, but has room for improvement.
The phone's battery is not upgradeable. Like the Oppo Reno 7 Pro 5G, it gets a 4500mAh battery along with 80W fast charging. Using this charger, the phone charges from 0 to 52 percent in 15 minutes and gets a full charge in 34 minutes. The phone lasted 18 hours and 25 minutes in our HD video test. With normal use, the phone runs smoothly for a day and a half, which is great for a slim device. Wireless charging is not available here, which is easily available in other smartphones in this segment or below.
Oppo Reno 8 Pro 5G cameras
The triple rear camera setup is available on the Oppo Reno 8 Pro 5G. It has a 50-megapixel primary camera with a Sony IMX766 sensor, but no OIS support. The second camera is an 8-megapixel ultra-wide-angle lens, and the third is a 2-megapixel macro camera. It has a 32-megapixel front-facing camera for selfies and comes with autofocus. Oppo's camera interface will be familiar to OnePlus and Realme users. The interface is very simple, but advanced options for some modes can be accessed by tapping the ellipsis button.
Photos taken with the main camera in daylight were sharp and clear with good color reproduction. Results with the ultra-wide camera were very average, with limited dynamic range, which meant there was less detail in shadow areas. It felt like the macro camera was just edited to fill the specs as it wasn't very easy to take a picture with it and the focus was fixed. The real difference in improving the AI ​​scene is visible in this phone. It provides good dynamic range when taking still photos, especially in daylight.
Selfies were sharp and detail and dynamic range were good. Selfie portraits were also good, but the phone failed to expose the background very well. Images looked good in low light, provided there was a light source nearby. I expected to do better with the 32MP selfie camera with autofocus.
When the photo was taken in auto mode with the main camera in low light, detail was good. The lack of OIS was felt here as the camera failed to capture raised grain detail well on any surface. A texture with black spots was found in the dark area. While capturing the photo here, the phone took more than one to two seconds, and in night mode, this time went up to 3 seconds.
The camera was very capable of capturing details in night mode as it also captured details that I couldn't even see with my eyes. The noise reduction algorithm is more aggressive, with the long exposure and lack of OIS, the photo doesn't come out as good as it could be. Photos taken under lots of street lights were sharp, but the texture was a bit flat here as well.
Oppo Reno 8 Pro 5G's main camera uses DOL HDR video recording at the hardware level, with support for Oppo's MariSilicon X NPU. Better dynamic range is claimed with this system. However, in my experience, 1080p 30fps video was average and lacked detail. 1080p 60fps video was quite shaky, stabilization was a major issue. Video came out fine at 4K 30fps. There was plenty of detail and the dynamic range was also good.
After turning on the AI ​​Highlight function, the video started playing unstable frame rates and details were also reduced. Despite shooting in daylight, the texture remains soft and noise is visible even in dark areas. 4K low-light video was recorded at its best quality when shot in normal mode. I found it better to keep AI Highlight off as it degraded the video quality.
our solution
The Oppo Reno 8 Pro 5G clearly looks like a premium smartphone. It's lightweight, stylish and looks premium even at Rs 45,999. It's hard to find another smartphone with such design and build quality at this price. Unfortunately, your hopes start to dwindle when it comes to the camera. The camera is not the best for the price of this phone.
The Xiaomi 11T Pro 5G stands out here as a solid option with better hardware and camera performance, with a decent macro camera at a lower price. It misses a bit in design but offers tremendous value for money at a starting price of Rs 37,999.
The Oppo Reno 8 Pro 5G phone has come a long way from its old model, so it now stands shoulder to shoulder with OnePlus and Motorola. There is also the OnePlus 9RT 5G which offers decent camera performance, is equipped with a Snapdragon 888 SoC, a 120Hz OLED panel and is priced at Rs 42,999. Then there is the Motorola Edge 30 Pro which has a Snapdragon 8 Gen 1 SoC, a quality rear camera , a 60-megapixel selfie camera, IP52 rating, and a hands-on Android software experience.
The OnePlus 10R Endurance Edition and Realme GT Neo 3 (150W) are also available at the same price, but you can check them out if fast charging is your first priority. Finally, there is the Redmi K50i 5G, which is priced at Rs 25,999. It's equipped with the same processor, 144Hz display, 5080mAh battery, but the phone is built with a gaming bent.
The Oppo Reno 8 Pro 5G will appeal to those who are fans of Oppo, want a very attractive design, want an IP rating and also want fast charging. The phone ended up being a bit expensive and not the best value for money.
Your voice is enough to work with these speakers, buy this speaker for Rs 999
Amazon's Best Smart Speaker: The speakers are available on Amazon for just Rs 999 and can work with Alexa or Google Voice Assistant. That is, the sound alone is enough to drive them. They have a sound power of up to 5 W and are also waterproof. These portable speakers are best for small parties at home, conversations in the office or for entertaining children.
Link to all Amazon deals and offers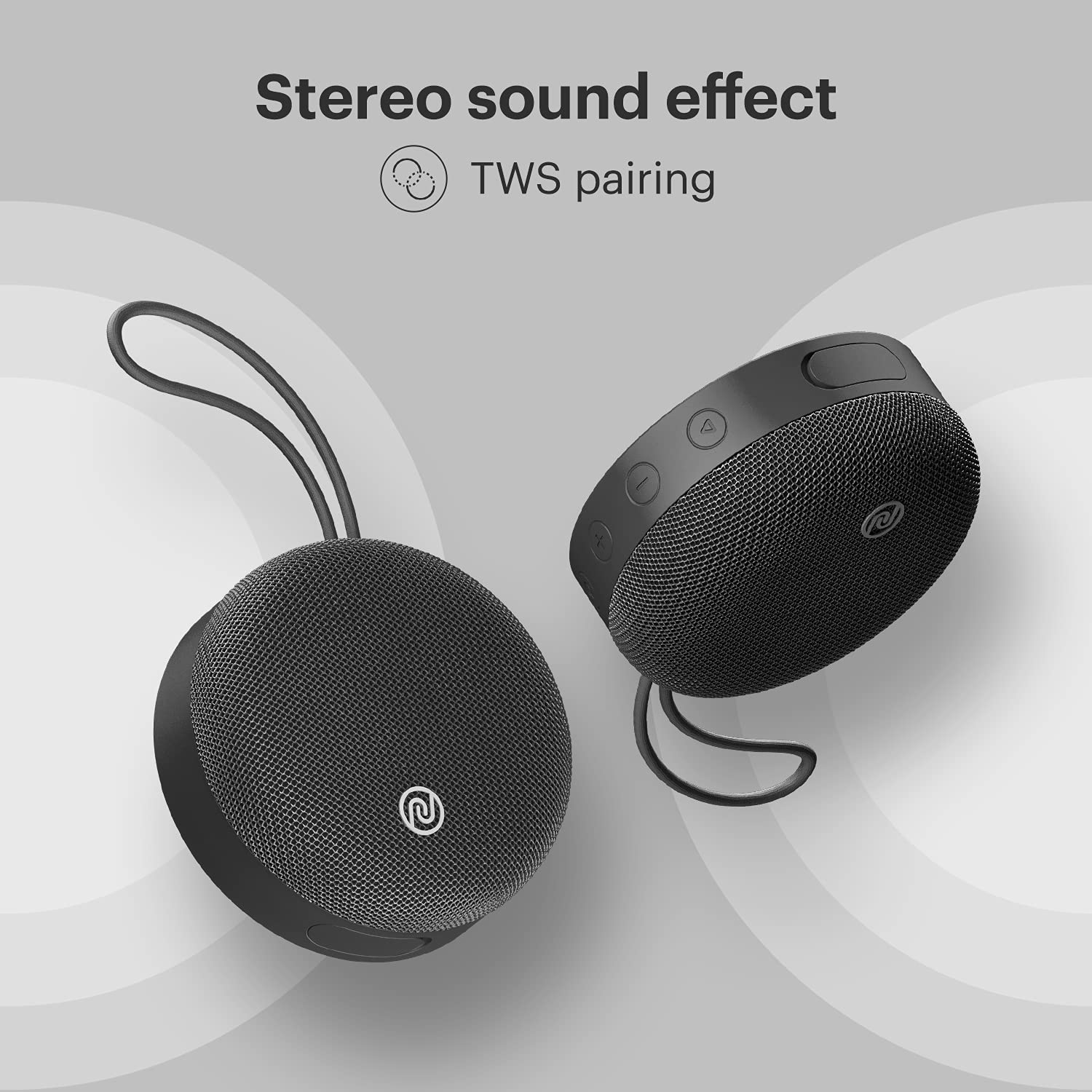 1-Noise Zest 5W Wireless Bluetooth Speaker, Voice Assistant with 8 Hours Play Time, IPX7 Waterproof and TWS Pairing for Stereo Sound, Portable Speaker with Dual Equalizer (Bass and Normal Mode)
These smart speakers from Noise are available at a whopping 67% off. It is priced at Rs 2999 but in the deal you can buy it for just Rs 999. It's a speaker powered by Google Voice Assistant. These are waterproof speakers with a level of IPX7. They have TWS pairing function and dual equalizer. It is a 5W speaker with 3 color options.
Amazon Sale on Noise Zest 5W Wireless Bluetooth Speaker, Voice Assistant with 8 Hours Play Time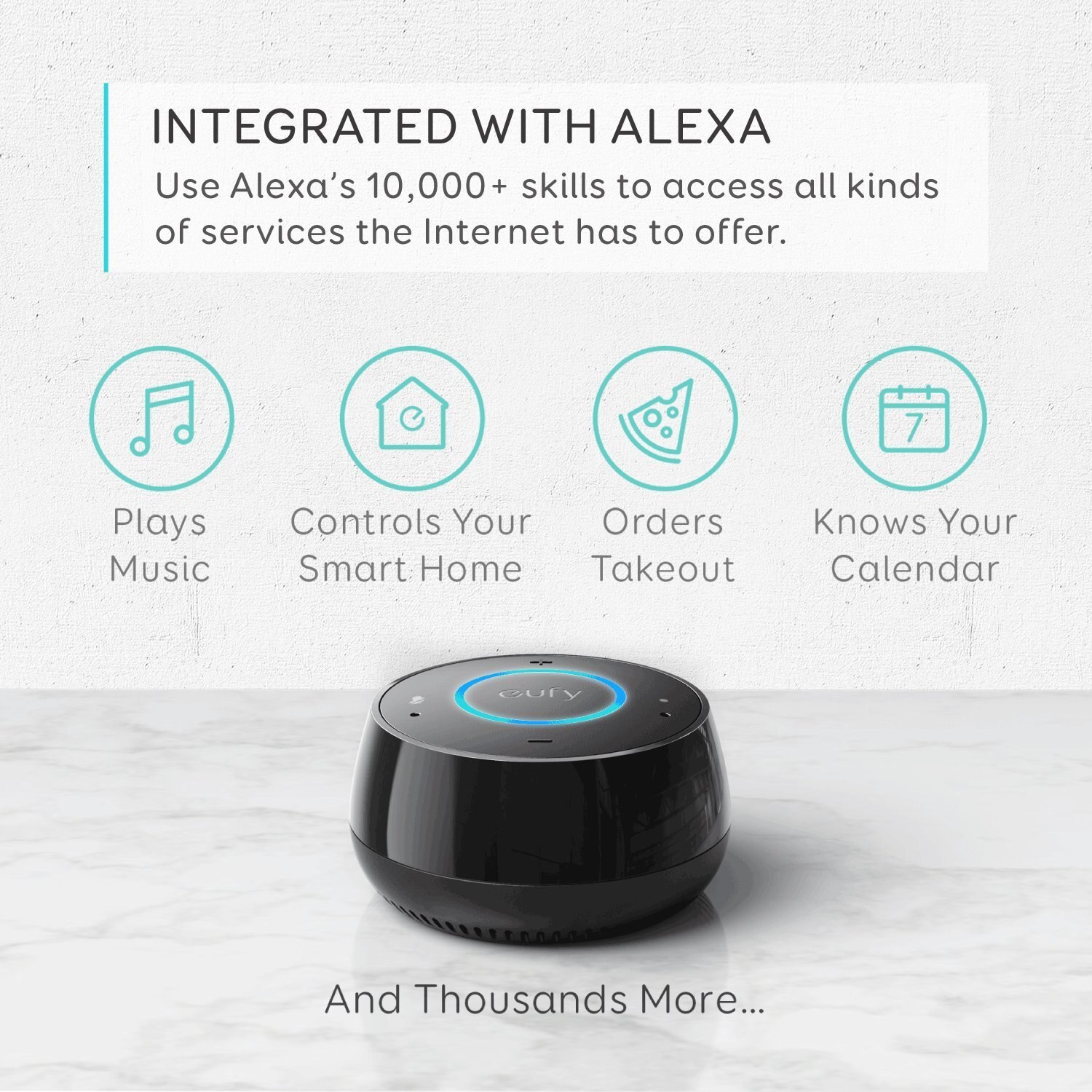 2-Eufy Genie Wi-Fi Smart Speaker with Amazon Alexa, Voice Control and Hands-Free Use, Online Music Streaming (Amazon Music, Pandora, Sirius XM), Smart Home Control, AirPlay Compatible, AUX Out, Black
This speaker is priced at Rs 3,299 but the offer is getting a 57% discount after which you can buy it for Rs 1,409. It is compatible with Alexa and Google Voice Assistant. It has 2W speakers.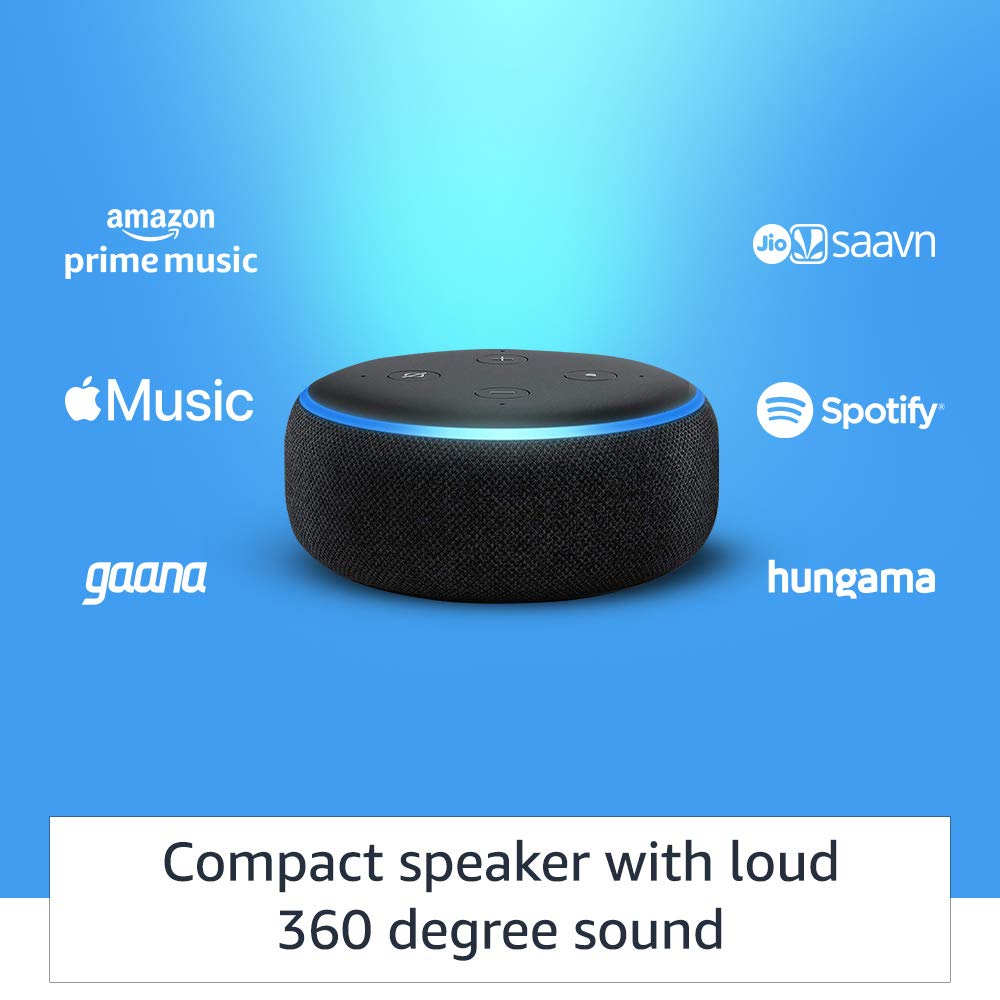 3-Echo Dot (3rd Gen) – New and Improved Smart Speaker with Alexa (Black)
The Echo Dot speaker, Alexa's best-selling speaker, is on sale for just Rs 2,249. It is priced at Rs 4,499, but there is a 50% discount on the sale. In this the voice command can also be given to Alexa English.
Amazon Sale on Echo Dot (3rd Gen) – New and Improved Alexa Smart Speaker (Black)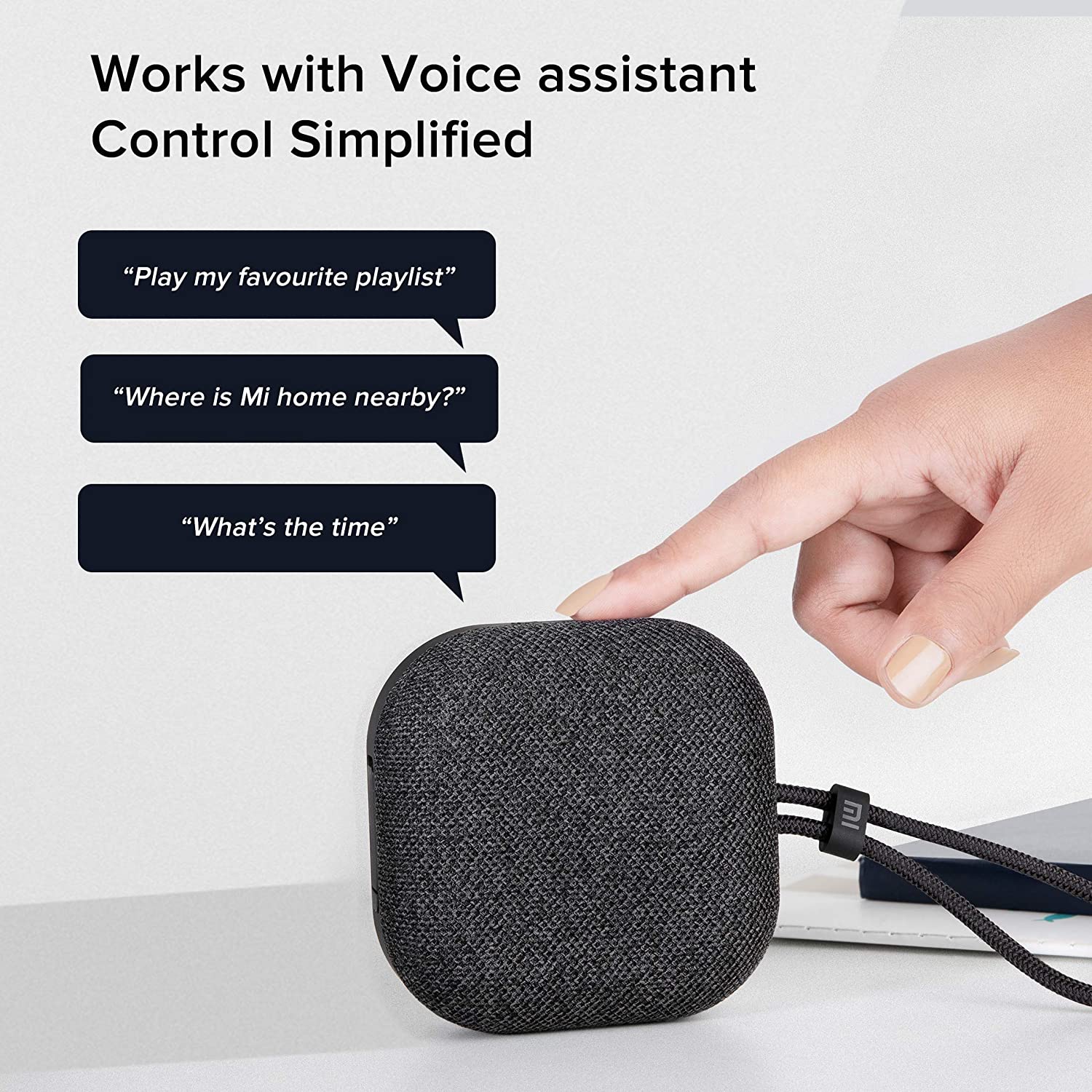 4-Mi Outdoor Bluetooth Speaker (5W) Up to 20 hours battery life, dynamic sound effect, Bluetooth 5.0, IPX5 splash proof, compact and premium mesh design
These Mi portable speakers are available for Rs 1,199, whose MRP is Rs 1,999, but there is a 40% discount on the offer. It is a 5W speaker that is splash resistant. Its battery life is up to 20 hours.
Amazon Deal for Mi Outdoor Bluetooth Speaker (5W) Up to 20 hours battery life, dynamic sound effect
Disclaimer: All this information is taken from Amazon website only. For any complaint related to the goods you will need to contact by going to Amazon. ABP News does not endorse the quality, price and offers of the products mentioned here.
OnePlus 10T 5G first impression: Things have changed!
OnePlus isn't just a phone, it's an individual brand. The company has carved a niche for Android fans with its never-failing tagline and flexible software. The growing popularity of the company has brought it to the mainstream and the prices of the phones are increasing continuously, but still the company is doing something different to make the fans happy. Now, however, all that has begun to change. OnePlus is now merging with its subsidiary Oppo, the software efforts of the two companies are merging, and that separate boundary of OnePlus seems to be eroding now.
The company's new OnePlus 10T 5G is quite attractive. The company is saving the "T" smartphones for a mid-year launch. But no OnePlus 10 has been coming here. This phone is new from the OnePlus 10 Pro and has some features that can be called modern since it was launched as the successor to the OnePlus 10 Pro. The base variant of the phone comes for Rs 49,999 in which 8GB RAM and 128GB storage are available. Above that is the 12GB RAM and 256GB storage model that comes for Rs 54,999. If you want to go even higher, there is also a 16GB RAM and 256GB storage variant that costs Rs 55,999.
So what exactly do you get from the company? Is it just an old phone, or has OnePlus found a new way to make it stand out? Here we recount the first impressions of the OnePlus 10T 5G.
Instead of the big box of OnePlus, now the company has given a standard design. There is a protective case, a red Cable Club membership card, some stickers and a large letter from the company for the phone. There's also a 160W charger and a red USB Type-C cable.
In the camera layout of the smartphone, you will see a similarity with the OnePlus 10 Pro 5G, but the rear panel of the phone is quite prominent. You'll also find out how reflective its back panel is. The volume buttons are given on the left and the power button is on the right. There is no warning slider here. At the top there are small speakers and a microphone hole. A tray for two SIM cards, a USB Type-C port and the main speaker are located at the bottom.
The OnePlus 10T 5G didn't feel very premium to me, even though its back panel is made of glass. At 8.75mm, it's quite thick, and at 203.5 grams, it's also quite heavy. It comes in a slightly textured finish Moonstone Black and glossy Jade Green. We have its Jade Green variant.
All variants of the OnePlus 10T 5G support 150W charging. If you are concerned about safety, then the company has provided a complete list of measures taken for this, which we will talk about in the full review. You can also charge other devices including laptops as it comes with USB-PD support up to 45W.
During the setup process, you'll get privacy and customization options. You can choose the system font, set up security, and even practice navigation gestures. It comes preloaded with apps like Netflix, OnePlus Community and Game Manager. This device comes with Android 12 based OxygenOS 12.1 with July security patch. If you dig deep into the settings, you'll find some customization options. The company announced OxygenOS 13, but unfortunately the 10T 5G does not come with it.
The company has termed the design of this phone as weightless or weightless, which can be said to be useful and more accurate. The company has removed the alert slider from it, which was the most visible feature to differentiate it from other Android players. This simple switch took up a lot of space in the body, and the company says it prefers that space to accommodate the battery capacity. In addition, better cooling and antenna are also included here. The company seems to have tried to save some costs, but after removing the 3.5mm headphone jack a few years ago, I still don't see how things have improved for the user.
Apart from all this, the company has also not provided wireless charging, official IP rating and e-SIM support, which the company thinks its fans will live without. Even the Hasselblad camera brand has been removed. The company says the 10 Pro 5G is still a flagship option for those who want better camera capabilities. While the 10T 5G will appeal more to those who prioritize gaming and fast charging more.
The phone is powered by Qualcomm Snapdragon 8+ Gen 1 SoC with improved cooling system, 16 GB LPDDR5 RAM and up to 256 GB UFS 3.1 storage. For the best option, the company says you can run 30 apps simultaneously in the background, so you can pick up where you left off.
The phone's 6.7-inch Fluid AMOLED panel features full HD+ resolution, 120Hz peak refresh rate and an integrated fingerprint sensor. The edges are thin all around and there is no thick chin. The display supports HDR 10+ and is made of Gorilla Glass 5. The OnePlus 10T 5G also has a 4800mAh battery, Wi-Fi 6, Bluetooth 5.3, NFC and GPS.
The main rear camera with OIS is a 50-megapixel Sony IMX766 sensor with f/1.8 aperture. Along with this, a primary 8-megapixel ultra-wide camera and a 2-megapixel macro camera are also available. The front camera is 16-megapixel. These specs aren't very good, but the company promises richly detailed photos and videos on the back of 10-bit color capture support and better processing algorithms. Video recording can be done at up to 4K 60fps.
The company's latest launch, the 10R, looks like the Realme GT Neo 3 and doesn't quite fit into OnePlus' plan. Now the 10T 5G is also presented in the same style, which again raises the question of who is this phone for? Where does it fit into the heavily discounted OnePlus 10 Pro 5G? Are the compromises worth it? And most importantly, is OnePlus still OnePlus?
On top of all that, we're in the process of testing the 10T 5G to see how it balances camera quality, battery life, charging speed, design, and the OxygenOS experience with CPU power. Stay tuned to Gadgets 360, detailed review coming soon.